9 Shocking Self Storage Industry Trends for 2024 and Beyond
The self storage industry is growing every day; here are some trends driving its growth.
Self storage has experienced fascinating market trends in the 21st century, which means that the companies providing this service are getting increased customer attention. With the increasing demand for space, self storage is one of the few solutions for people who wish to declutter their homes or store goods for their e-commerce business.
This article lists several self storage industry trends for 2024 and paints a vivid picture of what the future of the self storage industry may look like.
In no particular order, here are 9 trends driving growth in the self storage market:
In 2021, the global self storage market was valued at $54 billion, projected to grow at a CAGR of 7.53% between 2022 and 2027 to hit a whopping $83.6 billion at the end of the forecast period. The North American market is projected to contribute the largest chunk of this figure.
Its key drivers are a heightened focus on slashing spending on infrastructure and the increasing need for business insights. Still, the Asia Pacific region is expected to register the fastest growth rate in the forecast period, owing to several factors like the growing number of e-commerce businesses.
As the years roll by, the self storage market looks promising because of the improving economic outlook and the rising urbanisation rates in the world's growing economies. More people are taking advantage of self storage facilities due to the high cost of housing in densely populated areas and the increased frequency with which they must relocate.
In accordance with this fad, the constantly expanding worldwide population favours market expansion due to the need for more storage space as families grow and acquire more possessions. Self storage software, AI (artificial intelligence), and IoT (internet of things) are also fueling market expansion to keep tabs on all storage facilities, boost marketing efficiency, increase occupancy rates, and enrich tenants' lives.
Similarly, the self storage recession-proof nature has been further bolstered by the increased adoption of remote work policies worldwide, exacerbated by the coronavirus (COVID-19) pandemic. This trend has inadvertently led to increased demand for self storage to reduce overhead costs.
In 2022, the UK had the highest estimated number of self storage facilities, registering a staggering 2,060. It's closely followed by France at 650 and Spain at 580. The major players in the self storage market include the likes of CubeSmart, U-Haul, Simply Self Storage, Life Storage, and StorageMart, amongst others. To gain further insights into these trends with detailed statistical data, check out our self storage industry statistics article.
As we'll observe below, various self storage industry trends will reshape the market in 2024 and the years to come.
In today's modern world, virtually all activities occur online or via digital means. Retailers with global footprints like Walmart and Amazon aren't the only ones competing in the digital sphere. Small business entrepreneurs have also benefited greatly and are now more successful than ever.
Creating a website and establishing a presence on social media is essential to the modern success of any business. All business owners have benefited from this technology because it has increased the efficiency with which their services are used, owing to their numerous beneficial features.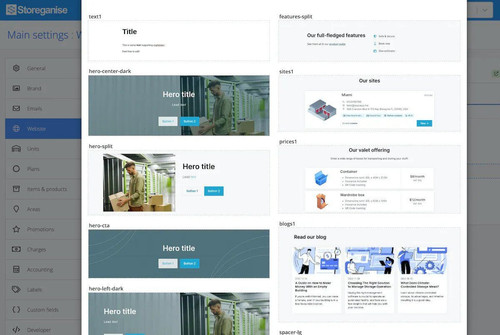 Today, more than ever, there's a heightened demand for self storage. Self storage facilities are essential in light of the growing importance of urban areas and the large number of individuals moving there.
Due to changing population dynamics and evolving consumer preferences, the self storage market has become indispensable. That's why a business owner in the self storage sector should consider creating a reliable and speedy website. A well-designed website can help you address various problems and attract new customers as the future of the self storage market leans towards increased technology adoption.
With your self storage website, you can let people know where you are, what you offer, and the precautions you take to guarantee their safety. You can also provide additional information about your various storage options, dimensions, features, and associated prices.
If you sell ancillary products or services (like offering moving trucks for self storage), you can make that information more easily accessible to potential buyers by including it on your website. Your customer service, the ease with which people can locate you, and your exposure will all benefit from having a website.
Self storage websites are so important, that we recently added the ability to create and edit your own, all from the Storeganise dashboard.
The days of the merchant sitting at a desk with a calculator and a drawer partitioned to hold different currency denominations are long gone. In today's fast-paced world, self storage companies are tasked with dealing with various costs.
It's unlikely that the average person could perform all the maths so quickly. This is where computers and programs come in handy. Storeganise's self storage software allows you to compute billing and accounting tasks for your business with ease. This software can be used to compute a variety of financial metrics, including costs, taxes, profits, and so on.
If you plan on opting for self storage software, it's important to know the features you should look out for.
When keeping track of finances, we frequently lose either paper records or electronic information uploaded to a computer in our Excel spreadsheets. You must have a security protocol or system to keep this information safe.
Keeping track of fresh expenditures, fluctuating market prices, tax payments, utility bills, overdue payments, payments from new customers, and overdue installations in the storage industry may become cumbersome. Self storage trends show people are now utilising technological measures.
A wide variety of data management software for your self storage business is available to protect your data from viruses and intruders. They also keep tabs on any overdue consumer payments. In addition, they provide the best pricing for each storage unit based on the demand and requirement, as discussed earlier.
Through this method, you may rest assured that your information will never be compromised or lost. Due to the automation of most of the calculations, human error is virtually eliminated. Therefore, if you run a business in the self storage sector, consider using the necessary software to maintain order and security in your data.
You can control your storage units from any location on earth through cloud services. Self storage technology's utilisation of the cloud system is a remarkable development, as databases are available for secure and dependable use. This trend results in more efficient and profitable self storage services.
By storing materials with cloud technology, users have more flexibility in retrieving them at their convenience. It's a cost-effective option because it prevents the requirement for costly database crash troubleshooting and restoration. Moreover, database failures are relatively unusual due to cloud services' built-in cloud repair system.
Self storage technology could improve customer relationship management by facilitating a more streamlined experience for tenants. The primary benefit is reduced employee time requirements despite the availability of on-site and online lease-ups around the clock, seven days a week. You'll have just your storage operators and your software running the show.
Despite various self storage marketing techniques, there's a wide range in how long it takes to go from initial inquiry to a signed lease regarding self storage. Most of the lead's work in selecting a self storage facility can be done online, regardless of how long it takes them to do it.
Make sure everything the customer needs for a positive experience is available on your website. You can further enhance their booking process by opting for reliable self storage software that automates billings and sends automated invoice reminders as and when due.
The self storage market is experiencing other trends and developments, shaping its growth and future. By staying ahead of these trends, self storage businesses can position themselves for success and meet the evolving needs of their customers.
With the rising cost of housing and limited space in densely populated areas, more people are turning to self storage as a solution. The need for additional storage space is driven by downsizing, moving, or simply decluttering. This increased demand has led to the establishment of numerous self storage facilities around the globe.
Technology is playing a crucial role in driving data storage trends in the industry. Self storage businesses are embracing technological advancements to enhance operations and improve customer experiences. That includes adopting self storage software, which enables efficient management of billing, accounting, and customer management tasks. By leveraging technology, self storage facilities can streamline their processes and provide a seamless experience to their customers.
The self storage industry increasingly embraces sustainable practices to reduce environmental impact. To minimise energy consumption, facilities are implementing energy-efficient technologies, such as LED lighting and smart climate control systems. Additionally, some self storage facilities are exploring renewable energy sources like solar panels to power their operations. By adopting sustainable practices, the industry is reducing its carbon footprint and attracting environmentally conscious customers.
Self storage facilities focus on improving customer convenience through various initiatives. These include the development of user-friendly websites and online platforms that allow customers to book and manage their storage units easily. Many facilities also offer contactless access options, enabling customers to enter the premises and access their belongings without physical interaction. These conveniences enhance the overall customer experience and cater to individuals' evolving needs and preferences.
So far, we've extensively discussed the self storage trends for 2024. In business, there are no promises of success, but there are guarantees of failure — one of them is missing out on data storage trends and failing to stay up with market growth and advancements.
Due to the pandemic, people's occupations and lifestyles have inevitably shifted (e.g., via increased adoption of remote work policies), driving demand for the self storage market. Similarly, numerous technological developments have undergone advancements and have become firmly established as industry standards. For growing enterprises, including self storage facilities, embracing technology is an absolute must. By facilitating easy methods of contact and payment, you may significantly improve your customers' experience.
Storeganise provides self storage businesses with functional software solutions, such as management and expansion tools. Sign up for a free, personalised demo today to understand how we can help scale your self storage business.
Frequently Asked Questions on Self Storage Trends for 2023
Why is the self storage industry growing?

The trends show prosperity because the constantly expanding global population favours market expansion due to the need for more storage space as families grow and acquire more material goods. The ageing population has seen an increase in death and divorce, leaving family members in need of storage for surplus household items and personal property. Key players have also taken advantage of the returns that can be made through storage properties, so the real estate industry has seen an increase in demand for investing in such properties.
Is storage space in demand?

Yes, it is. Storage space is in high demand, and it's expected that the self storage industry will grow in size and demand as the years roll by. This is exemplified by the growing global self storage market — valued at $54 billion in 2021, it's expected to hit $83.6 billion in 2027, growing at a CAGR of 7.53% within the 2022–2027 forecast period. Vacancy rates are decreasing from month to month as this major market experiences the demand pull. Advancements to the storage units are also more popular, such as climate controlled units, drive up storage and vehicle storage.
Is self storage a good business in the UK?

Yes, it is. The UK's self storage industry is one of the country's most rapidly developing and lucrative sectors. Occupancy rates hit a record high of 83.3% in 2022, while average rental rates (ARR) spiked by 9% in the past year to hit £26.13 per square foot. Churn rates also went down from 118% recorded in pre-pandemic times to 76%, highlighting how recession resistant the industry is.
What are the new trends for storage?

The self storage industry has seen several new trends, with the following being the most prominent:

Increased adoption of self storage websites.
More efficient budgeting via self storage software.
Heightened data security to protect customer data.
Increased use of cloud storage services.
Online leasing for self storage facility searchers.
Increasing demand for self storage facilities
Integration of technology
Adoption of sustainable practices
Enhanced customer convenience