How to Make the Most Out of Trade Shows: A Visitor's Guide
Gain valuable insights on optimizing trade shows and their objectives. Uncover effective strategies for enhancing your experience as an attendee through thorough pre-event preparations.
Trade shows offer a great way to explore the latest goods and services available in the market. As a trade show visitor, you can discover what's new, see first-hand how products work in action and make great connections with vendors and other attendees.
However, with all that variety comes an overwhelming feeling, especially if it's your first time attending a trade show. You might not know where to look, what questions to ask or what deals are available. That's why we've put together this handy guide for you with tips on how to make the most out of trade shows. We also included a selection of trade shows where Storeganise would be present to showcase its cutting-edge self storage software.
Trade shows are invaluable platforms for:
-   gaining industry insight,
-   fostering connections, and
-   discovering innovative products.
These events offer a fun and engaging atmosphere and provide various opportunities for professional growth and business development.
Companies benefit from showcasing their products and services at trade shows, allowing them to stand out in a competitive market. These exhibitions are the perfect stage for businesses to present their unique offerings and attract potential partners or customers.
However, you don't have to be an exhibitor to take advantage of these events — attending as a visitor offers just as many opportunities to learn, network, and benefit from other purposes of trade shows.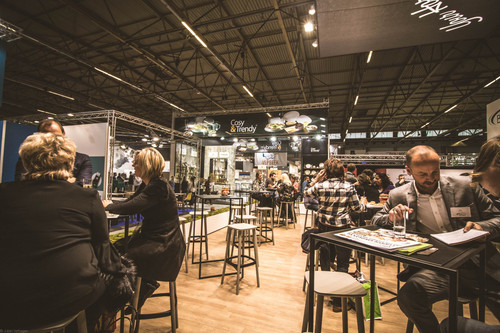 Here are some perks of attending a trade show:
-   Trade shows are ideal for staying current with industry trends and emerging technologies.
-   In a single day, you can explore new products, engage with industry leaders, forge valuable connections, and better understand the market's trajectory.
-   By attending these events, you'll be better equipped to navigate your industry's ever-evolving landscape.
So, don't hesitate — immerse yourself in a trade show experience someday and reap the benefits of this unique opportunity for personal and professional growth!
Attending a trade show can be a gratifying experience, but it can also be overwhelming and intimidating. With so many exhibitors, events, and products to choose from, it can be challenging to know where to start or how to make the most out of your visit.
To fully benefit from your trade show visit, you should take several steps to prepare.
Here's an outline of how to make the most out of trade shows as a visitor:
1.  Conduct thorough research.
2.  Gather essential supplies.
3.  Team up with a colleague or friend.
4.  Dress appropriately for the occasion.
5.  Compare and consider.
Before attending the trade show, familiarise yourself with the exhibitors and their offerings. Most trade shows have dedicated websites or online forums that provide information about the participating companies and their products or services. Review this information and list the booths or presentations that interest you the most.
Don't forget to check out reviews from previous attendees to ensure you're picking a trade show that'll leave you buzzing with excitement and newfound knowledge. It's crucial for those seeking how to get the most out of trade shows, despite never attending one previously.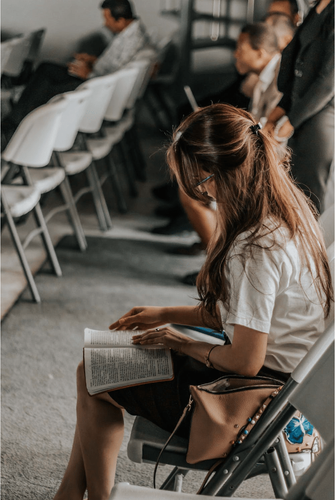 In addition, identify any relevant workshops, educational sessions, or special events, as these activities may provide valuable learning opportunities. By planning your itinerary, you can efficiently navigate the trade show floor and prioritise your time with the exhibitors that align with your needs and goals.
Note: We'll list the biggest trade shows to find Storeganise later in this article. You can use that as a resource if you're keen on learning about how our novel online software can help automate self storage businesses.
Come prepared with the necessary supplies to capture valuable information and make lasting connections. Bring a notebook and pen for taking notes during presentations or conversations with exhibitors. You may also pack a sufficient supply of business cards to exchange with potential contacts.
Don't forget to pack your phone charger to keep your device powered throughout the day, especially if you're attending one of the biggest trade shows with many offerings that could possibly interest you. Pack lightly but strategically — wear comfortable shoes and bring items like hydration packs and protein bars if necessary (trust us; these will help).
By having these essential items on hand, you'll be able to document critical takeaways and make memorable impressions with other attendees and exhibitors.
Attending a trade show with a colleague or friend can enhance your experience since you can get additional perspectives and insights. A partner can help you network, evaluate exhibits, and make the event more enjoyable. In essence, collaborating with someone else can increase your productivity and ensure you don't miss any crucial details.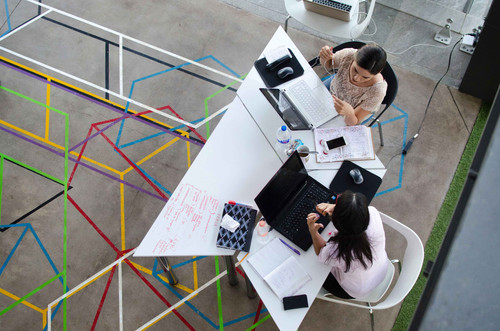 Consider the event's nature when preparing for a trade show and dress accordingly. For most business-related events, opt for professional attire that conveys a polished and competent image.
However, if the dress code isn't explicitly stated, remember you'll spend hours at the event, and dressing comfortably will allow you to focus on the purpose of trade shows: learning and networking without discomfort.
Finally, compare prices and consider all your options if you plan on purchasing a product or paying for a service. The great thing about trade shows is that they give visitors access to a wide selection of products in one place — like an online marketplace but in real life.
Take advantage of this opportunity by comparing different brands and services before deciding which works best for your needs.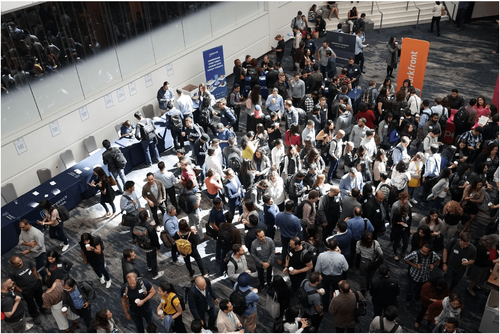 So what do you do after the show is over?
As a visitor, the best way to use what you learned while attending the biggest trade shows is to take action.
And here's how to do just that:
1.  Reach out.
2.  Stay connected.
3.  Organise your notes and materials.
4.  Reflect on your experience.
5.  Share your knowledge.
First, if you met a staff member from one of the companies that were particularly helpful or if you found a product that resonated with you, reach out to them. This could be done through email, direct message on social media or even snail mail if that's your thing. Don't forget to thank them for speaking with you and helping educate you about their products/services.
Now that you're connected, make sure to stay connected. Companies often send out email updates with exclusive offers and discounts that may be useful. It's also a great way to stay up-to-date on industry news and events so that the next time there's a trade show coming up, you'll know it.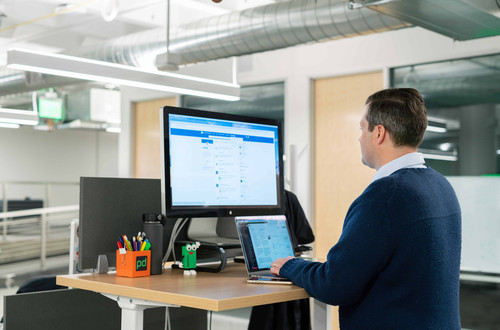 After attending a trade show, you'll likely have a collection of business cards, brochures, and notes you've taken. Another approach on how to make the most out of trade shows is to take the time to organise this information to make it easy to reference and access later. This might include creating a digital folder for scanned documents or setting up a physical filing system.
In essence, organising your materials will ensure you understand what you've learned and make it easier to follow up with contacts.
Take some time to consider the overall experience of attending the trade show.
Were there any standout moments or conversations that you had?
Were there specific products or services that caught your eye?
Reflecting on these experiences can help you identify key takeaways and opportunities for your business or personal growth.
Don't keep all the valuable information you gathered to yourself!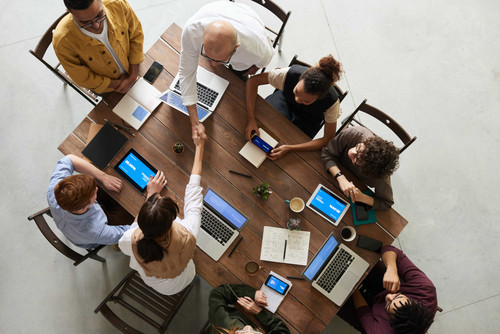 Share your insights with colleagues and friends or even on social media. Discussing your experience may reveal new ideas or opportunities you hadn't considered before. Additionally, sharing what you know can help position you as an industry expert among your peers.
If you want to learn about self storage and witness first-hand how Storeganise's revolutionary software is transforming the valet and self storage industry, you can find us at any of the below trade shows. When you attend any of these events, get ready to be blown away by our cloud-based software solution that streamlines self storage management like never before.
March 8–10, 2023 | New Orleans, USA
Discover innovative solutions and attend insightful workshops at the Self Storage Association 2023 Spring Conference & Trade Show in New Orleans. Network with industry peers and enjoy the vibrant atmosphere of the Ernest N. Morial Convention Center.
April 12–13, 2023 | Las Vegas, USA
Experience the USA's largest self storage trade show at the Caesars Forum Conference Center. ISS World Expo 2023 offers informative seminars, product demonstrations, and valuable networking opportunities with professionals worldwide.
September 5–8, 2023 | Las Vegas
Engage with thought leaders and stay ahead of industry trends at one of the biggest trade shows where Storeganise would be present — the SSA Fall 2023 Conference in Las Vegas. Held at the MGM Grand, this event promises cutting-edge insights and unforgettable networking experiences.
March 12–14, 2024 | Maryland, USA
Explore the future of self storage at the SSA 2024 Spring Conference in Maryland. Held at the Gaylord National Harbor Resort and convention centre, this event offers a perfect blend of learning, networking, and relaxation.
April 2–4, 2024 | Las Vegas, USA
Witness the evolution of the self storage industry at the ISS World Expo 2024 in Las Vegas. Connect with industry experts and learn about the latest technologies at the Caesars Forum Conference Center.
May 16–17, 2023 | Birmingham, UK
Uncover the secrets to success at the Self Storage UK Conference 2023. This two-day event is one of the biggest trade shows happening in Birmingham and promises to bring together industry leaders and showcase the latest innovations in the rapidly expanding UK self storage market.
October 24–26, 2023 | Rotterdam, Netherlands
Experience the pinnacle of European self storage at the FEDESSA Conference & Trade Show in Rotterdam. Join Storeganise and other industry professionals for an unforgettable learning, networking, and inspiring event.
November 14–16, 2023 | Melbourne, Australia
Immerse yourself in the Australian self storage scene at the SSAA 2023 Convention in Melbourne. Connect with industry leaders, discover new technologies, and gain valuable insights to propel your business forward.
September 26–28, 2023 | Bangkok, Thailand
Embark on a self storage adventure at the Self Storage Expo Asia at the luxurious Okura Prestige Bangkok. Explore the latest trends and technologies while networking with professionals from Asia-Pacific.
November 20–22, 2023, Tokyo
Join Storeganise at one of Asia's biggest trade shows—the Tokyo RSA Japan Self Storage Forum—for an unforgettable experience. Learn about industry best practices and emerging trends, and seize the opportunity to connect with like-minded professionals in the Japanese self storage market.
You can learn more about these trade shows on our events page.
Trade shows are great experiences and offer immense learning for businesses and individuals alike. Taking the time to plan and make the most out of the event will surely pay off. This guide is an excellent resource on how to make the most out of trade shows, offering helpful tips to adhere to before, during, and after the event.
From understanding the different trade show opportunities to developing your goals and objectives, careful preparation will ensure you get the most out of your visiting experience. Don't forget to actively engage with booths and vendors at the event and keep in touch afterwards.
Storeganise is a cloud software solution for self storage businesses looking to automate their operations and streamline processes. You can book a personalised demo by signing up today. And if you'd like to learn more about our software's fantastic benefits, consider attending any of the trade shows outlined in this post. You may also check out our events page for more info regarding these events.
What not to do at a trade show?

As a visitor at a trade show, it's essential to avoid the following missteps. There are also suggestions outlined to avoid them in each case.

Arriving unprepared: Have a plan and goals for the event.
Sticking to one spot: Explore the floor and engage with various exhibitors.
Ignoring networking opportunities: Connect with industry peers and professionals.
Missing educational sessions: Attend workshops and seminars to gain insights.
Neglecting follow-ups: Maintain contact with potential partners or leads after the event.
What is the best outfit for a trade show?

The best outfit for a trade show is professional yet comfortable attire, such as a collared shirt, tailored trousers or a skirt, and comfortable shoes. Dress to impress while ensuring ease of movement and adaptability to the event's environment.
What questions to ask at a trade show?

Here are seven insightful questions to ask at a trade show as a visitor attending a trade show:

How long have you been in business?
What are your support hours?
What makes you different from your competitors?
What is the product's pricing structure?
What other products do you offer?
Can existing systems be integrated into your product?
Do you offer training for product users?