June 2022 updates
New payment options, security updates, improved invoicing features, new integrations and more
We are constantly developing Storeganise, including new features, making the user interface even easier to use and adding quality of life improvements. June 2022 marks another major release for Storeganise that brings new features and improvements to our existing users free of charge.
In this major release of Storeganise you can find these new features and improvements:
In this release of Storeganise, we added two new payment methods that allow even more flexibility and lower transaction costs for our clients around the world.

SEPA payments
EU operators using Stripe can now easily integrate SEPA payments into your business to receive direct debit payments that offer lower fees and secure transactions.
Cybersource
Cybersource (part of Visa) processes payments for merchants in pretty much every country in the world. Operators in countries where Stripe is not available, can now accept automated payments via Cybersource.
E-mail verification
We now require all admin accounts to verify their email before using Storeganise. This adds an additional layer of security and privacy to the platform and reduces chances for spam, fraud and privacy breaches.

Your clients can still use the Customer Portal without verifying their email, so they won't be directly affected by this, but you can ask them to verify their emails via the customer portal's Profile page for extra security. Email addresses that appear in red have not yet been validated.
New login location notification
We also detect login locations for admin accounts, so we can inform you if there is a login attempt made from an unusual location. This increases security and makes you aware of unauthorised logins.
Log in using your Google or Microsoft Azure account in 1 click
We added a popular method of logging in to web platforms. Google and Microsoft Azure SSO (single sign-on) allow you to quickly log in to Storeganise with a single click, if you are already logged in to your Google or Azure account.

This improves the platform security and makes it easier for users to sign in to Storeganise. We'll be sharing more info on this soon but if you are keen to start using SSO now, please get in touch with us.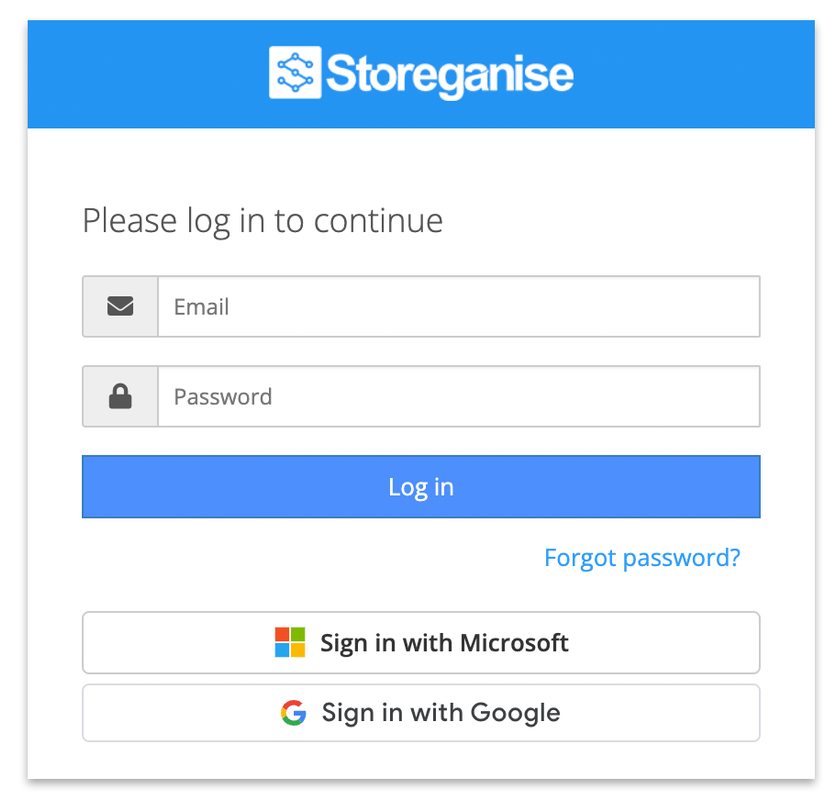 Improved customer portal for better UX and easier bookings

Over the last few months we have revamped the Customer Portal completely to increase conversion, automate bookings and impress your customers with our out of box rebranded customer booking portal.
Have a look at it in our spaceup.me demo

Many of you are already using our new Customer Portal and we'll be helping all other businesses convert over soon. If you'd like to get started now, please get in touch.
We have added several new invoicing features that will make your life (and invoicing) easier

Automated self storage late fees;
You can now see deleted invoices;
When processing a move-out, Storeganise will automatically generate credit notes for customer refunds;
We have increased the number of automated invoice reminders you can setup from 3 to 6.
With our latest integrations, Storeganise now supports 8 different access control providers!

We are constantly working to identify new solutions and integrations to partner with, providing you with tonnes of great options to automate and improve your business operations. Stay tuned for more integrations in the future!

Quality of life improvements to the move-in process
We have redesigned move-ins to make the process even easier. We have also added a move-in date restrictions, so you can choose when your units are available for booking via the Customer Portal.

If you plan on launching a new facility, you can now get it online and start taking bookings for the future so you can start filling it up before it is even ready!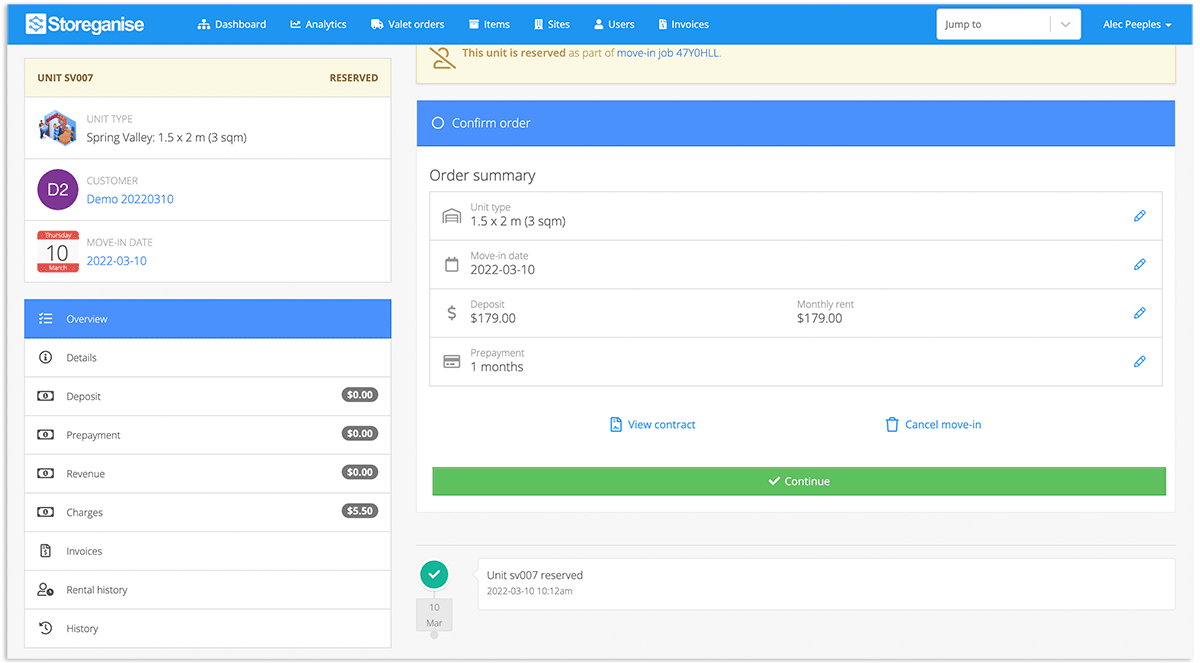 A better way of importing and exporting data from and to Storeganise

We improved exports, giving you control over what data you need each time you run an export. The import and update functionality has had a number of improvements added. Imports and exports can now also be run in pretty much every part of the system making your life even easier :)